---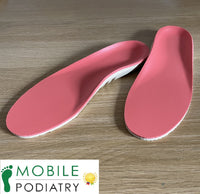 Duosoft Insoles are specially designed for those with sore, sensitive feet. Suitable for people with diabetes, arthritis or other conditions that lead to sensitive feet.
The dual layer of urethane and poron give a soft, cushioned, memory-like feel under foot and help distribute pressure away from problem areas.
Also suitable for metatarsalgia, plantar fasciitis, Morton's neuroma, pre-ulcerated feet and other foot deformity.
These insoles are non-adhesive but slide into any shoe easily and can be removed and moved to other footwear.
Please note, these insoles are up to 8mm in thickness and will only suitably fit in closed-in, secured, spacious footwear. A shoe insert may need to be removed to allow space for the insole to be fitted.
If you have any questions or queries about suitability, don't hesitate to get in touch.