---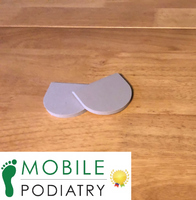 Sale
Hapla poron is a shock absorbing material ideal for cushioning and heel pain relief. Ideally both heel pads in the pack should be worn under both feet to prevent uneven distribution of weight.
It's self adhesive backing allows it to stick safely into your shoes or onto insoles.
The pads measure approximately 7cm long/wide, but can be cut to an ideal width if necessary. The thickness is 6mm.
The benefit of poron is to mainly cushion sore or painful areas, perfect for heel pads for plantar fasciitis.
We also sell self adhesive poron as a larger sheet, or non-adhesive poron insoles.