---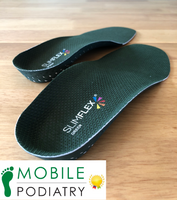 Slimflex foot orthotics are easy fitting, easily adaptable, comfortable orthotics, used for basic to mild support of the feet.
They can be used to help with plantar fasciitis, heel and arch pain, general foot ache, Achilles problems, ankle pain and more.
They can easily be adapted to create a 3/4 length orthotic suitable for narrower shoes.
If you are a heavier person or have higher activity levels, please see our higher density slimflex EVA orthotics.
Please contact us with any queries or questions.