---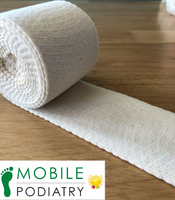 Tubigrip is the classic compression bandage, suitable for multiple body parts to prevent excessive movement and strain on painful joints and muscles.
It can also be used to reduce limb oedema/swelling, however if you're experiencing prolonged swelling we recommend a clinical opinion.

Please see the size guide below or contact us if you're unsure of suitability.
Size C: Medium wrist. Small elbow.
Size D: Large wrist. Medium elbow. Small/medium ankle. Small knee
Size E: Large elbow. Medium/large ankle. Medium knee.
These sizes are guidelines only, provided by the manufacturer Molnlycke Healthcare.